Welcome to the second in our article series, Seven Deadly Sins of Home Renovation. Last time we shared some great tips on DIY Interior Design. This time we'll help you plan ahead for the space you'll need in your bayside home in the future.
"Space – the final frontier." Just like the brave Star Trek crew, you'll be amazed at the space you can find in your own home if you are open to exploration and new ideas!
There are so many benefits to thinking ahead about space in your bayside home. A more comfortable lifestyle, extra years in your current home before you have to move, the lifestyle benefits of having more space for the whole family to enjoy and ultimately, a better selling price.
And while you'll need to make some compromises in your bayside home, most likely due to council restrictions, your original façade and foundation walls, your larger block offers an enormous range of options.

Here Are Our Top Seven Tips For Creating More Space in Your Home
#1 The first step in your voyage?
Think big! When you begin planning for extension of your bayside home, always allow for more space than you think you'll need. It won't be easy to adjust your renovations if you realise you don't have enough space. Think ahead about all the possibilities for your family and their needs. Cut corners now and you'll regret it in the long run.

#2 Think about flow
One of the biggest planning mistakes people make is not considering the way their home connects together. The flow of your extension needs to be a seamless connection between the old and the new, which can be cleverly achieved through selection of fittings, paint colour and architectural features.
You may be interested to know that the most popular trend amongst Bayside Extensions' clients is to extend out, not up. Due to changing lifestyles, more people are choosing to lose yard space and create a rear extension to create a larger footprint, single storey home rather than extending up.

#3 Take it From Us and Our Clients
There are certain areas of your home you will always want more space – living areas and bedrooms. As your family grows, so does the need for more bedroom space. The kids will need desk and study space, as well as a place to hang out with their friends and have sleepovers. And as the kids grow and you have more time on your hands, you'll also want more space for entertainment and relaxation.

#4 Open up Walls and Retain the Structural Integrity
At Bayside Extensions the complaint we hear most often is 'I wish I had more space for open plan living!' Due to the traditional structure of period homes, many areas may tend to feel dark and closed off from the rest of the house, which simply doesn't work with today's preference for open plan living. The good news is that removing walls  – as long as the structural integrity of your home remains intact – is a relatively easy way to open up and breathe new life into dark spaces.

#5 Kitchen, Bathroom and Laundry Space
If you want to just dip a toe in the water if you are thinking about extending your bayside home, the three easiest places to find more space and make changes are your kitchen, bathroom and laundry. You'd be amazed what can be achieved through relocating bench tops, adding new appliances, changing window styles to achieve more natural light, removing doors and connecting walls and installing new fixtures and fittings in bathrooms.
#6 THINK OUTSIDE THE SQUARE!
Clever planning and design will achieve wonders. Use of your attic, roof cavity, basement or yard can deliver extra space and add enormous value to your home renovation.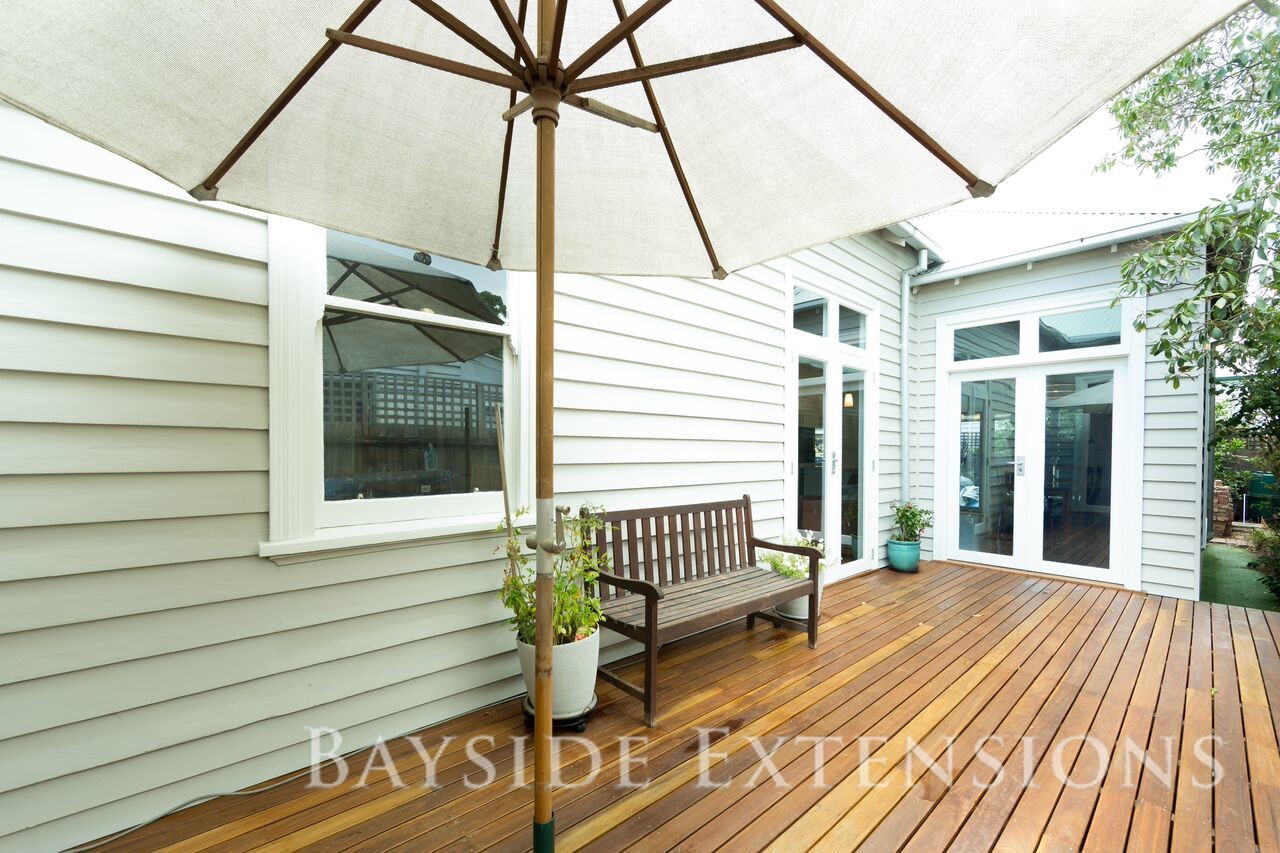 #7 Making the Most of the Space with These Tips and Tricks
If you're not quite ready to jump into major structural and architectural changes just now, there are loads of tricks and tips to help make the most of the space you have. To deliver the illusion of space, try the following:
Choose a lighter paint colour – the use of bright white and pale tones will lift and brighten any space.
Consider a skylight. The addition of natural light is a cost effective, low impact way to bring a sense of space to a dark hallway or room.
Change your windows! Period homes often feature traditional heavy wooden sash style windows that can restrict the flow of natural light into your home. Replace with new style, sleek windows, with narrow frames and maximum glass, to bring the outside in, especially if your bayside home enjoys a ocean view!
If you want to talk about how Bayside Extensions can accompany you on your 'journey into space' and transform your home, our professional design team would love to help. Contact us today by calling (03) 9596 0368 or email admin@baysideextensions.com