This beautiful home extension presented us with one of our favourite scenarios – transforming a period home to meet a modern lifestyle whilst respecting its' period character.
This charming  home is one of Brighton East's many period homes in the Bayside area.
Fortunately, over the years, its various owners have cared for this very special property with respect and as a result, many of the original features have remained intact or have been lovingly restored.
When we first met with the current owners, the brief for their bayside house renovation was clear. They were determined to retain the period character of the home whilst introducing the home to modern functionalities
Our talented design team carefully developed exciting plans for a major ground floor extension at the back of the property, along with the addition of an expansive new first floor. The owners requested that the lead light windows they had so beautifully restored be a prominent feature in the renovation. Their extensive wine collection needed pride of place and they wanted more storage space out of their interior renovation.
Rustic Kitchen Meets Classic Design
The rustic exposed brick of the kitchen wall, a perfect nod to the original solid 'bones' of the home, is both timeless and quirky. Classic white kitchen cupboards offer an ideal contrast to the elegant dark marble countertop and robust stainless steel appliances.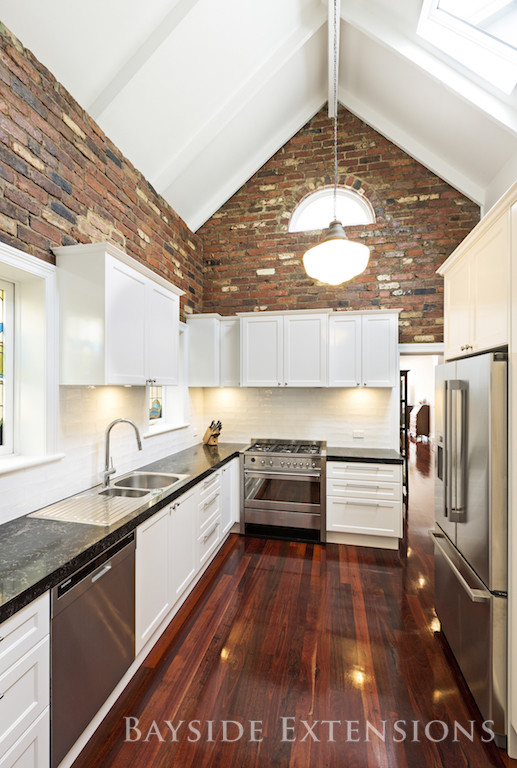 Creating Space For A Modern Family
To meet our clients' desire for a modern and spacious family home, the capacity of the existing living area needed to be maximised. Achieving the goal of this living room renovation required careful negotiations with Council and Town Planning, as site coverage was already at a maximum. Additional area was found at the first floor level in a highly aesthetic design that met council requirements and client needs. The existing windows were increased in length and depth to create a stylish and comfortable light-filled room.

A Stunning Bathroom Centrepiece
The ground floor bathroom remodel is a tribute to our design team. To ensure the beautiful stained glass window design remained a centrepiece, tiles were selected in a neutral shade of beige and laid from floor to wall, then complemented by a beige stone bench top. The finishing touch was a classic freestanding bathtub, which adds a simple and elegant silhouette.

Entertainment Area For The Whole Family
One of our favourite spaces in this stunning home is the deck extension. The wide, spacious timber deck, with an added step for easy access to the garden, seamlessly connects the rear of the house to the garden and offers a glorious retreat for the whole family to enjoy. This rear extension certainly invites relaxed afternoon entertaining.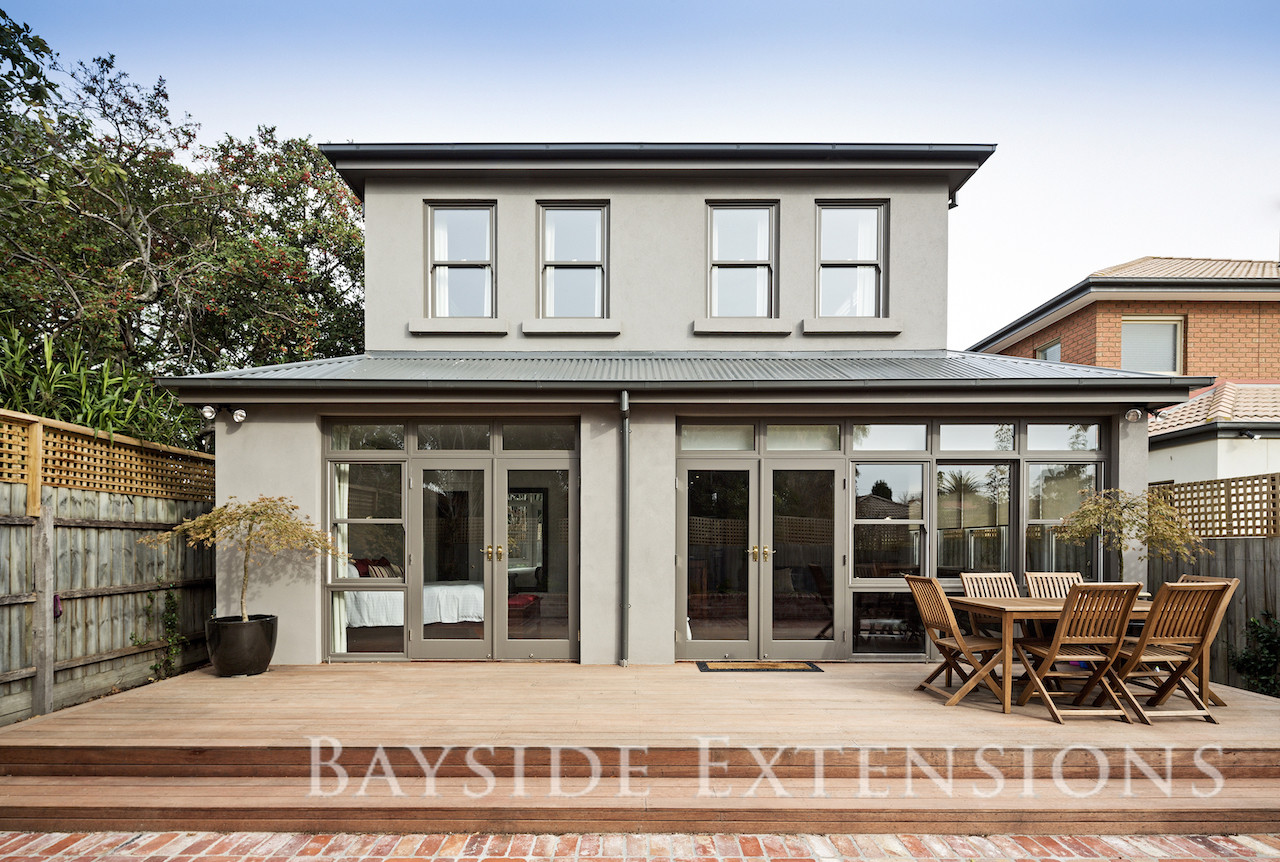 Practical Wine storage
A wine cellar was built for the owners to store and display their enviable wine collection.

Meeting the Lifestyle  Needs of a Bayside Family
The final result – a beautifully appointed, five-bedroom bayside home with exceptional living space that caters perfectly for the lifestyle needs of a growing family. This carefully renovated home  with its spacious extension is set to be enjoyed and admired for many years to come.
Looking for more reasons why an extension is worth the time and money? Click here to read about improving your home with an extension.