With bigger family demands and an increasing need for more space to spend time with your loved ones, you might be considering a living space extension.
While kitchens are all about functionality, recreation is the main purpose of your living space. With your living space, you have creative licence when it comes to how you want the room to look and feel. What works today might not work in a few years' time as the needs of your family change, but adding an extension that allows you extra space gives you room to work with in the years to come.
Working with a professional design and build team will ensure that you can make the most out of your living space redesign and ensure all your needs are taken into consideration.
What to Consider When Extending and Redesigning Your Living Space
There are certain points to consider that will make the living space design process more efficient and ensure that you are getting what you want and need for your family.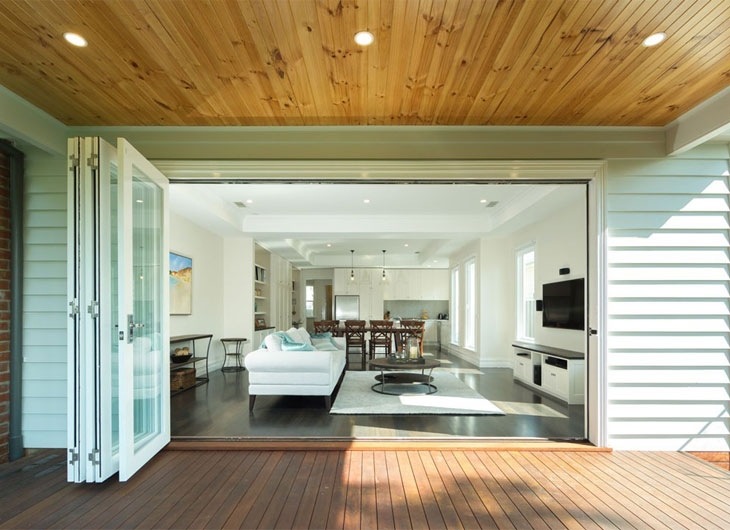 Extending Your Living Space
How to extend your living space will depend on a number of factors:
The amount of space you need
Property size
Relevant regulations
Your existing home design
Your budget
Depending on your home and any regulations which may be applicable, you may be able to build straight out from your current living room, or it may be possible to add a dining room extension next to your kitchen and reconfigure the internal walls and doors, if permitted. While building outwards makes sense in a lot of cases, there may be times where building upwards or downwards is the best way to incorporate a living space design, extension and build.
Making Your Space Work for You and Your Family
Being a recreational area, your living space can be used by all members of the family for different activities. How you use your room may change from one day to the next, or from morning to night, so it's important to think about what features will be most beneficial ongoing.
Seating
Your living space will likely be used frequently for relaxing and catching up with family after a long day. Making sure you have enough comfortable seating for everyone means that there is no fighting over who gets which chair.
If you have guests over frequently or like to entertain, you should think about whether the living space has ample seating to accommodate. You may like to add a bar with stools in between the kitchen and the dining room or include space for a few extra armchairs.
For reading and afternoon naps, a window seat is one way to incorporate extra seating without taking up much space.
TV location
Depending on how you use your living room, a television can often be the centre of attention in your lounge, so your living space design needs to incorporate this in the best way possible. It should be positioned in a place that is not going to be affected by direct sunlight and glare, further enough away from seating that it doesn't affect your eyes, and discreet enough that it doesn't take away attention from the overall design of the room.
Separate areas for different activities
Depending on the size of your living area, you can section off areas dedicated to certain activities. The main part of the space may be set up for adults and entertaining, with separate zones for the children, hobbies and relaxing. Zones can be sectioned off with screens, sliding doors, or furniture placement to subtly divide the space. A conservatory extension from your indoor living space serves well as a multi-purpose room throughout the year that can be closed off for privacy to relax or as a children's play area when you have guests around.
Comfort
Comfort is hugely important in a living space, so if it's a room that you want to relax in rather than entertain, the focus should be on creating a space that is inviting. Floor cushions and beanbags can provide an extra level of comfort, and could also work well as additional seating when guests are over.
Durable surfaces and furniture
With young ones or teenagers around, or in high use areas, it is worth considering durable surfaces and furniture in your living space that are able to last longer and require less maintenance than other materials. This may mean opting for leather couches over fabric that can be easily wiped down, flooring that doesn't stain or show scratches easily, and carpet that is able to be easily cleaned in case of food and drink spills.
Modern Trends in Living Space Extensions
Open plan living
Free flowing spaces allow for endless possibilities with how you use your space. Your home will seem more organised and allows you the ability to keep an eye on younger ones close by rather than being separated by walls.
Fireplaces
While a real wood fireplace may not be practical in your home, the appearance of one brings a certain level of warmth and comfort to a room. If you're not able to have an authentic fireplace, consider placing a gas model as a feature.
Environmentally friending building materials
Opting for eco-friendly building materials not only reduces your impact on the environment when making a room extension, but they are also kinder on your family's health. With next to no toxins and fewer harmful chemicals, the quality of your indoor air will improve. These materials may cost less than you think and are able to withstand the test of time, meaning less maintenance to worry about.
Movable screens
Rather than building fixed partitions to separate parts of your living space, movable screens allow you to section off parts of the room as needed. One day you may want to block off a space for you to have some privacy to relax, and others you may want to create a play area for the kids. This will ensure you are able to make the most out of your space, and that it will fit your needs for years to come.
Feel Free to Give Us a Call
Book A Free Consultation Today
One of our experienced designers will contact you to discuss your renovation or extension.