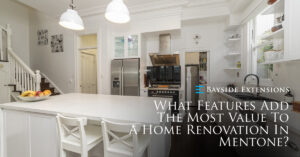 Are you thinking about selling your home in Mentone? Are you looking for ways to improve the value of your home? Well, after the 2020 coronavirus pandemic, the real estate market is in a slump. It's not ideal to sell your home right now. However, since things are picking up slowly, you can get started on a few renovations to boost your value when you choose to sell. Here are the best features to add value to your home with a renovation. 
1). Energy-Efficient Windows 
A lot of home buyers are looking for homes with energy efficiency concepts. Having old single-pane windows will keep the buyers away. Start by adding energy-efficient windows in your home to start saving on heating and cooling costs. 
With energy-efficient windows, you can expect to shave off a few dollars on your utility bills every year. Even better, you can qualify for some government incentives that will help you recoup your investment effortlessly. There are numerous benefits of having triple-paned windows in your home. Most importantly, interested buyers will flock to your home if you put it up for sale. 

2). Improve Curb Appeal And Exterior
If you want a lot of valuable offers once you put up your home for sale, you need to consider improving the curb appeal and exterior. It's the best way to entice interested buyers before they even get a chance to enter your home. You can start with the best landscaping features to show that your home is properly maintained. Start by mowing the lawn, pruning the shrubs, planting perennials or annuals and applying mulch.
Next, you should repaint the exterior walls and porch. If there are any flaking chips on your exterior walls you need to touch them up. Next, you should pressure wash the exterior walls to remove mould or dirt. Don't forget to paint the front door with a bold colour to make the exterior pop when your home is up for sale. 
3). Kitchen Renovation 
The kitchen is the heart of the home as this is where you spend most of the time there with your family. Any renovation or remodelling of your kitchen will pay off when it comes to selling your home. Of course, don't make the kitchen fancier than the rest of your home. Start by adding energy-efficient appliances, repainting and increasing the storage space to make your kitchen look brand new. 

4). Energy-Efficient Insulation 
Does your home lack basic insulation? Do you have old doors that allow hot or cold air to get in? When potential buyers look through the open house, they will notice these disadvantages. Even worse, home inspectors might include it in their reports. Living in a house without proper insulation can be costly in the long run.
You don't have to break the bank when updating your home to ensure energy-efficient insulation. Making a few changes allows you to save a lot of money in the long run. Start by adding extra insulation in your attic and start saving money on your heating or cooling bills.
Next, you should seal any cracks around the house to also save on energy costs. You need to make your home more appealing to potential buyers. If there is a draft during the cold months, that's a costly leak that you need to repair. Check the entire house to ensure there are no leaks that would discourage potential buyers.
Summary
No one wants to sell their home for a loss. If you want to get a good resale value for your home, you should consider these renovation ideas. You could end up saving a lot of money on your utility bills and get the best offers for your home when you put it up for sale.
If you need some professional advice on how to create more value with your home renovation in Mentone, Bayside Extensions can help. Check out some of the projects and homes we have successfully remodelled and renovated.
Let us know your requirements. Share with us your vision and let us help you bring them to life. Schedule an appointment now for a free consultation. Let your period home stand out and be the envy of Mentone.
If you are planning any extensions and renovations on your period home in Brighton, please call us at Bayside Extensions today on 03 9596 0368 or leave an inquiry.