Kitchen Renovations Melbourne
As part of a complete home renovation design, we can also help you create your dream kitchen.
Enhance Your Culinary Experience
If you are looking for a highly experienced team of renovation experts to make your dream kitchen a reality, you can trust 
Bayside Extensions
 to help you create a perfectly designed and beautifully functional space. 
We are so confident in our professional, efficient, and friendly service that we provide a 10-year structural warranty on our workmanship on top of a 3-month maintenance period to all our customers to ensure complete satisfaction after the completion of the project. 


Our design and build team understand the importance of listening to your specific needs and desires before offering expert advice on industry trends, products, and appliances to match the style and tone of your lifestyle with a beautifully 
designed kitchen layout
.
10 Reasons Why You Should Choose Bayside Extensions
From top-of-the-range luxury to basic functionality and everything in between, Bayside Extensions stays on top of the latest innovations and highest quality products available on the market to suit your particular needs and lifestyle.
We offer our expert advice derived from years of accumulated knowledge and industry experience in home renovation as an important step towards creating the perfect brief to make your dreams come true.
Our professional and highly skilled team of experts can provide you with custom-designed and bespoke renovations for an exceptional result and a unique experience.
4. Our friendly and cooperative team of experts will provide you with support and assistance from beginning to end and keep you up to date throughout each stage.
5. We provide a 10-year structural warranty on the build and a 3-month maintenance period after completion.
6. Our highly skilled team are experienced in all aspects of the design and build process and are passionate about not only meeting but exceeding your expectations.
7. We understand the need to provide the most beautiful kitchen while at the same time meeting the functional requirements of the room that is often called "the heart of the home".
8. We take into account the most important aspects of your home in the design phase of the project by taking into consideration factors such as any unique architectural features and respecting the rich history of the property.
9. We take great care to listen carefully to your requirements at the start of the project in order to get the necessary clarity needed to understand and fully deliver on your specific expectations
10. Our highly qualified team are experienced in maintaining the structural integrity of the rest of your home while enhancing your interior space with unique features that will improve the aesthetic and financial value of your home.
Kitchen Remodelling Melbourne
Our interior design experts are on hand to assist you with decisions on details like fittings, paint colours, tile and floor options, and many more to help create a truly professional and beautiful result. Our ultimate aim is to provide a professional service that will make the experience of kitchen remodelling as stress-free and enjoyable as possible. 
When you choose to work with us we appreciate that you are trusting us to deliver on our promises and will not rest until the job has been done to your expectations. Our trustworthy and reliable team are highly trained to ensure that your renovation project runs and smoothly as possible with no unwanted surprises.
Our skilled tradesmen are constantly supervised by a project manager to ensure our high levels of standards are adhered to and that your expectations are met during each phase of the project. If required, we will take care of any necessary permits and planning requirements from the authorities regarding extensions and renovations to your home.
Why Choose Bayside Extensions For Melbourne Kitchen Renovations?
When you partner with Bayside Extensions for your kitchen renovation project, you can be confident that you are dealing with one of the most awarded home renovations companies in Melbourne that will bring outstanding quality and a high level of professionalism to your project backed by decades of experience.
We specialise in creating renovations that are as unique and special as each individual client. As a certified and registered renovation and building company, we are able to guide you through the step-by-step process from concept to design and final build. Drawing on our decades of experience we can help you choose the appropriate appliances, products, and materials that will help make your dream kitchen come to life.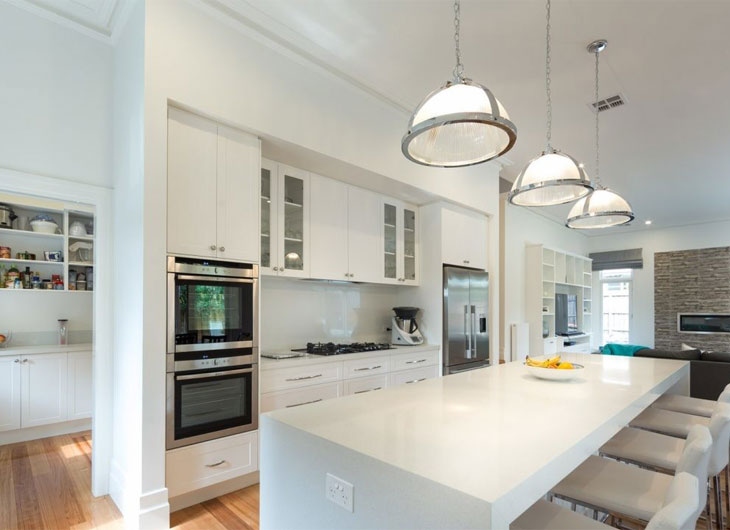 For a truly seamless renovation result, our design experts can help you take care of the final details such as matching colours, the perfect fittings and appliances for you, and anything else that will create a great Melbourne kitchen renovation.
So, if you want a kitchen that is incredibly beautiful and truly reflective of your lifestyle while being extraordinarily functional at the same time, why not contact Bayside Extensions today to find out how we can help bring your ideas to realisation?
More than anything else we believe in exceptional customer service which includes listening to you before we offer professional advice and put our exceptional design and build experience at your disposal.
Book A Free Consultation Today
One of our experienced designers will contact you to discuss your renovation or extension.